I generally try as much as possible to avoid commenting on matters theological in these pages. Aesthetically, I quite like the trappings of 19th century Anglo-Catholicism, but equally I am fond of the clean ascetic interiors associated with the Puritans. Certainly now it doesn't seem any of my business how a congregation wants to worship.
Sometimes, though, it becomes very difficult not to break this self-imposed restriction. For example, a High Church congregation is much more likely to keep its building open for visitors than an evangelical one.
Take Milton, for example. We found All Saints locked, with no keyholder. As usual, we pottered around the outside and had a look through the windows. This revealed that the nave has been very drastically reordered - instead of pews (or even benches) it is filled with stacking chairs that are arranged to face the pulpit in the south-east corner of the nave. The chancel is full of amplification equipment, a projection screen, and other lumber.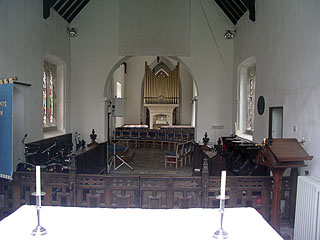 The porch was full of cheerful posters exhorting us to join the congregation for enthusiasm and music, but there was little comfort for a solitary traveller wanting a quiet moment of worship (or a pair of agnostic church-crawlers interested in the chancel furniture which apparently came from King's College). [Mark adds: I suppose that puritanism is fitting in a place called Milton... Ben may feel he has to be diplomatic for some reason but I see no reason not to say what I think. This church has been nearly wrecked by simplistic happy-clappies. No doubt they would advance arguments about 'returning to the attitudes of the early church' or similar - however they are no less than the modern equivalents of Dowsing and his 17th century crew of fundamentalist wreckers. They should get out of this building and give it to the real local community to use, since clearly any pre-fab with carpets and swedish chairs will do for their purposes.]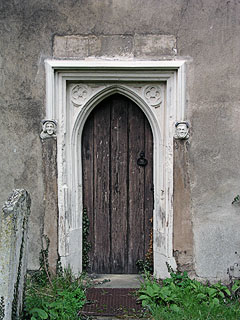 So, warm welcome aside, what can I say about All Saints? I liked the tower - like many in the ring of Cambridge satellite villages, it is small, but it's rather sweet. There is a huge dial in the west face which makes it look even smaller, and there are various heads on the parapet and the dripstones of the west window. There's even one sticking out of the south face, for no apparent reason.
I also found the porch rather interesting. Pevsner comments that it seems to be of the 19th century, but I don't think that's the whole story. To me, it looked rather like there was a modest medieval porch, and the Victorians built another porch on to the south of that. To make things even more complex, what one can see of the south wall of the older porch (which is mostly taken up with the newer structure) looks like it's been refaced in a classical design. All most strange.
The rest is pretty unexciting - the walls are stuccoed, and there are some impressively big windows at the west end of the nave, but that's about it. Below the east window we found a memorial to one Thomas Cannon who died in 1726 aged 17, placed there by his 'master and mistress' of four years.
Wandering further round, we discovered that on the north side of the church there is a new building containing a large hall, along with what looks like an office and toilets. This prompted me to wonder: why, given that they built this anyway, did they have to reorder the church itself so drastically? Then the congregation could worship as they desired, without stripping the church as bare as they have.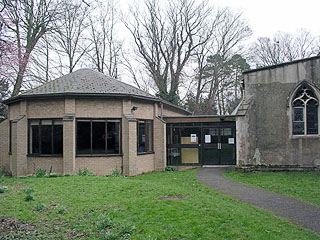 I thought of the strange, skewed arrangements in the nave, and wondered how much else they've got rid of. The fine Norman chancel arch can't have gone, and I doubt that anyone could want to do much to the piscina and sedilia at the west end, but what about the Elizabethan stalls, and the communion rail taken from King's? [Mark adds: the hall is a cheap, scruffy and uninspired piece of architecture, it shows no sympathy to its surroundings and looks like part of some Young Offenders Institute - the bit that joins it to the church is particularly horrid. As Ben says, it would suit the current congregation and save the church itself from their banal attentions.]
There's a nasty Gordian knot here. On the one hand, one feels strongly that a community ought to worship in the way it sees fit: it isn't the job of anyone (diocese, government or 'so-called do-gooders' like me) to impose a certain type of liturgy or celebration on them. However, what do we do when the mode of worship threatens something else that we consider important?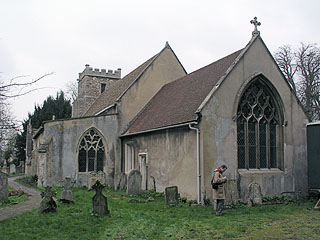 As far as I know, the benches in Milton weren't considered especially valuable - but what if the congregations of somewhere like Swaffham Bulbeck or Swavesey wanted to rip out their benches, complete with medieval carpentry, and install warm carpets and moveable chairs? What if the people of Guilden Morden felt that their screen was theologically unacceptable, or the denizens of Barton decided once again to efface the paintings of saints on the grounds that they were idolatrous? Our motives for preserving these treasures might be entirely secular - they certainly are in my case. The consequences, though, are not exclusively secular, for if we do move to prevent certain changes in churches, in effect we forbid certain forms of worship and promote others.
It's a tricky problem, and I'm not sure what is to be done. One thing I do believe strongly, though, is that the parish churches of England cannot just belong to their congregations: they have neither that right, nor that burden. The rest of us should (through the state) ease the financial cost of preserving the structures and the artworks within: but by so doing, we also assert our right to a voice in deliberations about how best to manage the buildings. And that, I suspect, is a rather unpopular thing to say.
All Saints was locked when we visited, with no information about keyholders.