St Nicholas is another Victorian fen church. Unlike many, though, it was built on the site of an older establishment, for there was a church already here when the present building was erected in 1875. According to Pevsner, the place still uses a 17th century altar from the previous church - not that we got in to see it.
It's odd to think of an old village being here, for in all other respects it seems like a typical 19th century settlement, one of several which were founded when the fens were drained with great steam engines, pumping the still water (and, as it turned out, much of the soil) into the Bedford Rivers and down to the Wash.
Manea sits a little way north of the Old Bedford River, on the very edge of the world, as it seems if one drives via the long boring roads from Wimblington or Chatteris. I've written before about how precarious these villages seem: caught on the razor-edge of the sky, and waiting to be swept away like foam when the waters rise. Until that day, though, Manea endures; quite a friendly village if the number of children playing out in the roads is anything to go by. And here is a church though (with less friendliness) it is locked.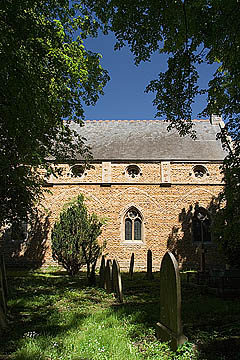 St Nicholas is a small building, built of the same yellow-beige-grey stone as St Peter in nearby Wimblington. There is a little three-bay nave, with an aisle on the north side, facing the road. Above the aisle are three clerestory windows - a quatrefoil, trefoil and cinquefoil - and in the middle of it is a gabled doorway. The west front also has a door, surmounted by a triple lancet. The nave has a sanctus-bell turret at its east end, and beyond that is a small transept - or perhaps a vestry? - and a chancel.
The clerestory is replicated on the south side, but there is neither aisle nor transept here - though oddly there are the remains of arcades set into the wall. I assume this is a whimsical bit of falsification on the part of the architect rather than an indication that there once stood a south aisle.
This side of the church generally feels a bit wilder and unkempt. The churchyard on the north side, facing the road, is filled with neatly trimmed yew trees about four feet high. [Mark adds: it looks like some complicated and dangerous board game, abandoned in mid-move. Maybe these hard edged bushes come alive at night, and stalk each other through the gravestones...]. On the south, though, all is overgrown, and a little bit sinister: the gravestones are obscured by ground elder and nettles, and guarded by rooks in the sombre trees above.
St Nicholas is kept locked, with no information about keyholders.