The Hospital of St John at Duxford was founded by Sir William de Coleville some time soon after 1200. It was used by the Templars and subsequently, one assumes, the Knights Hospitaller. All that remains now, wedged rather awkwardly between Whittlesford railway station and the A505, is the 13th century hospital chapel.
It is very nice, though: the moulding around the windows is elegant and severe, and there is some carving by way of decoration on the rood beam. I particularly liked the arrangement of piscina-window-sedilia in the south-east corner.
After the hospital fell into disuse, the chapel was used as a chantry, until it was converted into a barn at the Reformation and used by the inn next door for a good few centuries. Despite these indignities, though, it's survived relatively unscathed, though the big east window has been bricked up, which is a shame. Kelly's Directory of 1929 says the following about it: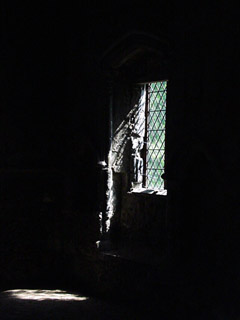 "The Red Lion hotel, at Whittlesford Bridge, is said to have formerly been part of a small monastic establishment anciently existing here: the rafters of the ceiling and the mantel-piece are very fancifully carved. The chapel belonging to this religious house, though but little known, is an exquisite structure of rubble of the Decorated period, and its design is of extraordinary merit: the tracery of the once fine east window has disappeared, but the piscina and sedile recess remain, and there are side lancet windows with beautifully moulded hood arches: the building may fairly be regarded as a perfect model for a small but plain chapel."
Well worth a look, and perhaps lunch at the Red Lion, before you go on to the nearby Duxford St John and Ickleton, two of the best churches in the county.
Duxford Chapel is maintained by English Heritage. It was open when we visited and I believe it's open on most days