There are fragments of a very old church, here: the chancel is Early English, with original side lancets (though the big triple-lancet in the east wall is too clean-cut to be original, I think) and there is a simple Norman doorway reset in the north wall of the nave. The tower too is old: a modestly sized 14th century structure with corner buttresses and a little pyramidal roof on the top. Mostly, though, the exterior is Victorian. The nave was completely rebuilt in 1868, and it shows it: the windows are too sharp and lifeless, and the stonework is a bit ugly: much of the material for this church was crumbly carstone, which has eroded much faster than the mortar of the 19th century work, with rather odd results.
I did quite like the Victorian south porch, mind: a solid little structure with characterful heads guarding the doorway. he one on the right is so life-like that he must have been the bishop of Ely at the time. Sadly, they barred our way when we visited: as with neighbouring Witchford (which is part of the same benefice), the church is locked with no information about keyholders. At the time, this didn't seem like too much to be sad about: a cursory glance through the windows suggested a gloomy green interior with little to see. Still, Mark went off to ask around for a key, and I stayed to take notes.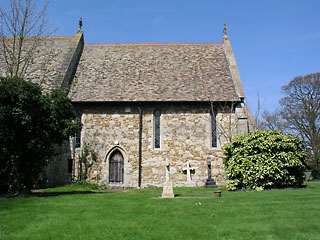 As I waited for him to return, I was captivated by a troupe of chickens in the garden opposite – six cocks, with lovely glossy green-black feathers, all scrabbling around in someone's rose bed. After a while, they ceased making so much noise and departed, hopping over the fence and then processing in a solemn little line into the field next door. I was charmed (and pleased with the appropriateness of the image, since I was sitting outside a church of St Peter). Shortly afterwards Mark returned, having had no luck with finding keys, and we set off, assuming that there wasn't too much to see.
Sadly, a glance at Pevsner suggests that we were wrong. The Victorian rebuilders preserved several interesting bits and bobs, including a 13th century font, some fragments of a 14th century screen and – most intriguing of all – a Norman sculpture of a priest holding a book and aspersorium (that is, a device for sprinkling holy water over things). So, it looks like a return trip is in order…
St Peter was locked when we visited, with no information about keyholders.