St Andrews was like a cathedral after seeing a skein of small churches like Wicken and Landbeach. The impression was quite appropriate - Soham was briefly the site of a cathedral founded by St Felix, who established a see here in the 7th century. It didn't last long, being destroyed by the Danes not long afterwards.
The present church has a 12th century cruciform plan, though the exterior is pure Perpendicular. The lofty tower is visible for miles around. It was rebuilt in the 15th-16th centuries, replacing a fallen crossing tower, and is a glorious example of its kind. There is a fine flint base course, and the parapet has some splendid flushwork and pinnacles. It is simultaneously reminiscient of the best Suffolk tower parapets (Mendlesham and Walberswick, for example) and of Cambridge architecture.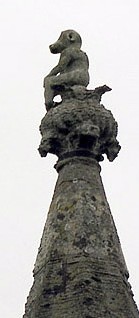 This is perhaps unsurprising, given that there is some evidence that the tower (the bottom half, at any rate) was designed by John Wastell. It is my opinion that Wastell is one of the least-appreciated of the great British architects. He was the final master mason working on King's College Chapel, and was responsible for the miraculous fan vaulting there. He designed the crossing tower at Canterbury Cathedral, too, and the retrochoir at Peterborough. There's good reason to see his hand at Bury St James (subsequently turned into St Edmundsbury Cathedral), Lavenham, Cambridge St Mary the Great and Saffron Walden - great churches all. Architects after the Reformation with such a record were lauded and are famous - a comparison with Wren is perhaps a little over the top, but Wastell certainly seems to have been as important as people like Hawksmoor or Vanburgh were later on. Someone ought to write a biography and set the record straight.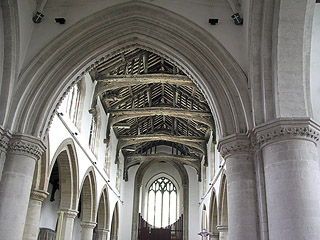 I do beg your pardon. Where were we? Ah yes - we've just had a look at the tower, and we're now entering the church through the elaborate porch. The rest of the exterior lives up to the tower, by the way - very grand. My favourite bit was the monkey on the north transept.
Inside, one is immediately struck by the tower arch. As one might expect, it is tall and thin - very stately. The age of the church is a bit more evident in here: the nave arcades (crowned though they are by a fine Perpendicular clerestory) are transitional, and the western tower arch is richly decorated in a strange style halfway between Transitional and Early English. The carving is so crisp that I was initially convinced that it must be Victorian - apparently not, though. I suppose that the advantageous water transport makes getting good stone rather easier here than it is further south and east - and Soham was always a rich place.
The roof in the nave is a classic East Anglian one, with alternating hammer- and tie-beams, angels soaring out from the hammers.
In the north transept, there is a fine original screen. The tracery is particularly elegant, and lots of original colour survives - rich green and gold and deep crimson. The chancel has a lovely east window - Decorated, I think. It had niches on either side, with some original colouring remaining.
A wallpainting of a bishop peeks out from behind the whitewash, and there is a lovely ensemble of piscina and sedilia in crisp, elegant Perpendicular.
It was starting to get late, and the woman who had been pottering around putting out flowers asked us if we would be long, because she wanted to lock up. We got into conversation with her, and wandered into the south aisle (which incidentally has a nice piscina next to the altar) where she showed us their new stained glass window.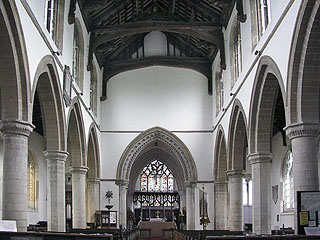 It is an image of St Felix, having a presence here once again after thirteen centuries, and it was unveiled very recently. They are rather unhappy with it - the design was dominated by greens and blues, but the window is actually rather brown, and the green and blue are restricted. The painting on the glass is rather peculiar, too - full of ugly hatching, rather like Charles Keeping at his most scratchy and gloomy. 'And the roundels look like milk bottle bottoms'. Still, there are some other modern windows with nicer glass in them. It's nice, too, that people can be commemorated in the nave windows. There are lots of windows, but then, there seems to be plenty of demand - this church is obviously still at the heart of its community.
St Andrew's was open when we visited.