The name of Meldreth is familiar from the times that I have accidentally boarded a stopping train from London King's Cross to Cambridge. On a dark, rainy November Sunday, there's little more soul-destroying than stopping at every station on the way: the dull spiritless Hertforshire towns, and then the tiny deserted stations in the back of beyond: Ashwell & Morden, Meldreth, Shepreth, Foxton... Now, I haven't caught a stopping train for about a year, and I no longer dread returning to Cambridge like I used to, but the names of those stations still manage to evoke that 'long dark teatime of the soul' feeling. This is quite possibly unfair, but there we go.
As it happens, suburban gloominess isn't that inappropriate for Meldreth. We drove up from the southern part of the village where, near to the station, there are lots of executive commuter houses being built. This is wise - the train to London is fast, and it's quicker to get from Cambridge to central London than it is from my parent's house in the 'inner' London borough of Greenwich. Still, it's a pity that these 'executive pixie' estates are always so bland and inappropriate.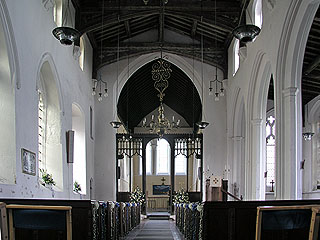 I remember once seeing a big development on the outskirts of Saxmundham in Suffolk where the architects had decided that variety and the use of local materials would be appropriate. The result was that the houses alternated in livid pink and e-number orange, and a few of them had bizarre flint panels set into the walls. I got a headache just looking at it - goodness knows what it would be to live in such a place. The new development in Meldreth isn't that bad, but it's still horrid. I've seen some very fine modern housing, but somehow never in commuter developments like this.
Meldreth sprawls, though. The older end of the village is about half a mile to the north, and it is much more pleasant than the area around the station. The grand church of Holy Trinity guards the crossing over the River Mel. It has a big tower (Transitional, according to Pevsner) with some interesting Early English blind arcading in the bell-stage. The porch is cavernous - this never had a parclose - and battlements decorate the parapets of aisle and clerestory.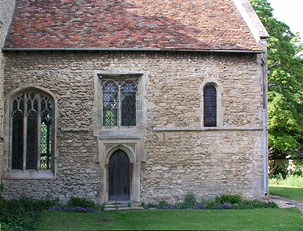 Inside, the grandeur continues. There is only a south aisle, but the clerestory is on both sides, big Perpendicular windows rising above the nave. The chancel arch is particularly vast, with a high rood stair and the remains of the original screen (the rood on top of this must have been spectacular). From the fine nave roof hang elaborate brass candelabras; there are cheery, fat angels on the nave roof corbels. The chancel is big, and painted in a rather unfortunate shade of magnolia. Here and there indistinct bits of wall-painting are left uncovered. The choir benches are original, and rather good. There are remains of Norman or Transitional windows - this is quite an old building.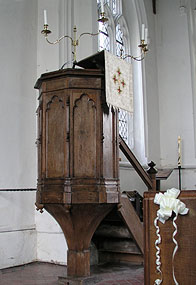 We were lucky to get into Holy Trinity. Mark has passed this way before and it has always been locked. We found a woman inside, collecting a few things for Sunday school. She had only popped in for a moment, but she was quite happy to stay for a while so that we could have a look around. She showed us their excellent new extension, which gives them a good big parish room for meetings and things and also some loos, then sat and read while Mark and I stomped around looking at things.
I was touched by this kindness - in some places we have been somewhat firmly booted out if someone wanted to lock up the church, and people are often rather suspicious of a young person wanting to have a look around. Thankyou, whoever you are - to replace the melancholy train journeys I now have a nice memory of Meldreth.
Holy Trinity was open when we visited, but that was rather unusual
I gather that it's usually locked without keyholders listed.