Lolworth is an odd place. The only access is via a little road coming off the westbound carriageway of the a141. From the road, the only thing visible is All Saints, perched on a little rise. The road winds up and suddenly a little village appears.
Isolation seems to have maintained the sort of community spirit often lacking now - in the church I was touched by a leaflet giving the order of service for 'Songs of Praise, celebrating the 100th birthday of Mrs Olive Winterbone' (followed by tea and the planting of a tree in the churchyard).
Initially we had difficulty finding it - we ended up in peoples' gardens on our first two attempts to get to it, which was rather disconcerting. The real access is down a long path leading from the village green, passing some lovely gardens and ankle-deep in fallen sycamore leaves when we visited on the first day of November in 2003. It opens up into a little churchyard with a sweeping view to the north - as well as the lorries of the A14 I was able to make out several spires - probably Over, Willingham and Longstanton All Saints.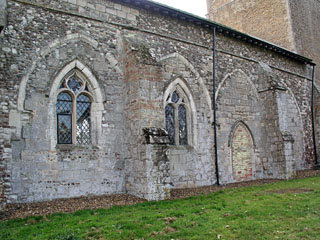 Those churches are all giants. Lolworth, on the other hand, is small. It wasn't a big church to start with, and then it lost its aisles; the old arcades can be seen clearly both inside and outside. The old aisle windows were reused in the infill, as was a certain amount of stone, but much of the work was done in brick. I couldn't work out how old it was. The little guidebook in the church says that the aisles fell in the early 14th century, but I think this may refer to an older church. The arcades looked distinctly 14th century to me, and Pevsner confirms that they were probably built around 1320. Neither do I think that the walls are so very old; that the windows are medieval is true enough, but the bricks make me certain that the walls have at the very least been renewed much more recently. The porch is Victorian, and I suspect that there may have been a significant restoration then.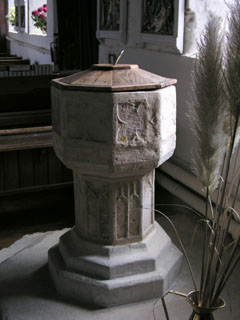 The effect of all this is to make the inside of All Saints feel extremely intimate. A Victorian rood separates the chancel and the nave. There is a strong Anglo-Catholic theme; there is a full set of stations of the cross, and a number of statues - not just of the Virgin, but also St Francis (surrounded by lots of birds).
The tiny font belongs to the Perpendicular. The carving is endearingly crude - the octagonal stem is decorated with panels of blank tracery, and the lines are all slightly lopsided. Bits and pieces of paint remain on the stem and in the bowls (which are carved with very shallow squared-off quatrefoils).
A sign in the north-west corner of the nave refers to a wall-painting of Doubting Thomas, but this has been covered over with paint, presumably for preservation. This is fair enough - most wall-paintings survive because something similar was done at the Reformation - but I would have liked to see it. [Mark adds: the website of the combined Benefice of Fen Drayton with Conington and Lolworth and Swavesey tells me that the painting was finally lost due to decaying plasterwork in 1958.]
All Saints was open when we visited