Broad Street runs along the bottom of the hill in Ely, to the east of the cathedral precinct and a little way inland from the river. It's a nice street, with plenty of picturesque shabby houses and a reasonable fish and chip shop that's worth a visit if you happen to pass through at lunchtime.
It also contains Ely's second parish church, St Peter. It sits in a cramped site, with no churchyard and barely enough room for the church itself between the buildings on either side.
The initial impression I had was of surprising grandeur. This is a bit peculiar, because St Peter isn't a big church, nor an elaborate one. (Indeed, strictly speaking I discovered from John Baker, one of the trustees, that it isn't really a parish church, but rather a proprietory chapel built by the widow of a cathedral canon in the 1890s). However, it is all built of yellowish stone, which is unusual even for Victorian churches like this, and it has a fine turret on the south-west corner, complete with little arched bell-openings and a pointy roof at the top. The architect (one J.P. St Aubyn, who built St Peter in 1890) clearly knew how to squeeze a little drama out of an unpromising setting.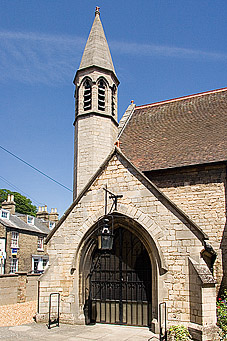 After that first flush of interest, though, there's little more to say. As well as the aforementioned turret, there is a porch and a vestry on the south side, and the church is otherwise just a simple hall. The nave is of four bays, with three-light windows in a variety of vaguely Decorated styles. There is no clerestory, so the roof rises steeply and impressively above the nave walls.
Alas, we weren't able to get in: not only was the church itself locked, with no information about keyholders, but so was the porch. That's a shame, because the porch was quite enticing, with a lantern over the archway, benches on either side, and a little stoup next to the door. John Baker tells me that there's a splendid rood screen by Ninian Comper inside, but we didn't get to see this of course. He did also tell me that the trustees are trying to think of ways to make the church accessible, though, so watch this space.
St Peter was locked, with no evidence of keyholders.