Tucked away behind King's Parade is the little church of St Edward. It sits in St Edward's passage, and has a leafy little churchyard full of mock-orange bushes, splendid with blossom in the spring. It's also a haunt of local tramps, who sit on the north side of the church, uttering their strange garbled oracles and drinking cheap beer. Overlooking the churchyard is one of Cambridge's finest bookshops, G. Davids. Above it is the flat where John Maynard Keynes lived while he was Bursar of King's. Behind that is student accomodation for King's - in my first year I had a room up at the top of the hostel, with windows looking out over both St Edward and Great St Mary. It's a very snug setting.
It's also an unusual dedication. Edward son of Edgar was crowned King of England in 975 at the age of only 13. He didn't last long, though. The usual story is that his stepmother Elfrida, favouring her own son Aethelred (Edward's half-brother), had Edward murdered in 979 when he was visiting Corfe Castle in Dorset. Like many murdered kings, Edward became the object of a popular cult and was acclaimed as a saint, though dedications to him are rather rare. There are some more details on the entry for St Bene't, just around the corner from St Edward's, which was built around the time of Athelred's unfortunate reign.
The west tower is Early English and has a fine west window - it is rendered in ochre stucco, and has a brick parapet, which is quite unusual. The interior is a late 14th century affair. The guide book (which is, incidentally, very good) proudly states that the nave is 'unquestionably one of the finest in Cambridge. One cannot but be struck by its great beauty.'
It's certainly true that the piers are particularly slender and shapely, but I don't know that I'd eulogise it quite so much. The church is very dark - indeed, I'd almost say gloomy - and I found it a little oppressive.
Unusually, the aisles stretch all the way to the east end - the chancel aisles were added in 1446 to provide chapel space for Trinity Hall and Clare College. Previously those two colleges had worshipped at the church of St John Zachary, which was in the part of Cambridge that was razed to make way for King's College. Their respective chapels here contain memorials to various academics associated with each college, including four Masters of Clare. The chancel didn't grab my attention much (though the ever-cheery guide marvels at how there are 'no choir stalls or altar rails to mar its beauty'), though the north wall leans rather a lot, and the north pier of the chancel arch is nerve-wrackingly lopsided. Still, it seems to have stood the test of time so far.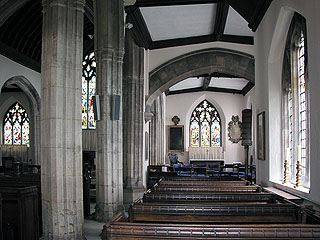 St Edward proudly proclaims that it was the birth-place of the English Reformation. The usual caveats aside, it has a claim to an important place in the history of that period. Cambridge in the mid-16th century was the scene of many debates between traditionalists and reformers, both radical and moderate.
Erasmus was at Queens' College for a while, and closely connected with St Edward's were some of the most active of the English reformers: Thomas Bilney, Thomas Cranmer, Nicholas Ridley and Hugh Latimer. These four - and others - discussed theology at the White Horse Inn, a site now underneath the 19th century buildings at King's. All of them worshipped at St Edwards, and Cranmer is supposed to have preached regularly from the lovely 1510 pulpit.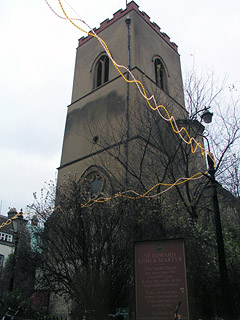 Their later doings hardly need recounting here, of course - all were eventually martyred (most famously, of course, Ridley and Latimer, who were burned in 1555 at Oxford). The next generation, though, included various people who had also been at Cambridge and had, presumably, been infected by the Protestant enthusiasm stirred up by Bilney and his colleagues. They had been briefly in power during the reign of Edward VI, and those that survived the reign of Mary resurfaced under Elizabeth. One - William Cecil - effectively ruled England for Elizabeth until his death, and others had important positions within the establishment.
So, is St Edward's the birthplace of the English Reformation? Of course not - one cannot tie the Reformation down to any one sermon, or motive, or church. But here - in Cambridge generally, and in St Edward's more specifically - some of the most influential men of those turbulent years tempered their thoughts. Their legacy can be seen, to a greater or lesser extent, in every church in the country.
St Edward's is usually open between 1pm and 4pm.