Now, this is a strange church. It is very small, and from the outside looks completely Victorian, more like a fashionable Gothick estate church than anything else.
Every edge bristles with narrow crenellations - the tower, the porch, the aisles, the clerestory, the chancel and even the vestry. Even more bizarre are the skylights in the south aisle - big rectangular gables poking above the battlements.
In fact, St Peter is an old building. The main body of the nave is 12th century, and the south aisle is 14th century. The age is much more evident on the inside. The 14th century arcades are interesting and unusual - four octagonal shafts pressed together to form lozenge-shaped piers. The rest, though, feels very 12th century, despite the Victorian windows and tower arch.
The roof is broad and flat, and the whole thing is very dark - even the skylights don't manage to bring in much light. Many small Norman churches retain the feel of a tunnel even if later additions add to the space, and St Peter definitely has a subterranean air.
This partially because the windows are filled with murky Victorian glass. Most of it was a bit grim, but I liked the easternmost window in the aisle, which depicted the Presentation of the Magi. The magi themselves are dressed sumptuously - Melchior in particular has a magnificent bejewelled collar - and attendants carry great billowing banners depicting stars and moons. Slightly on the camp side of magnificence, but still good.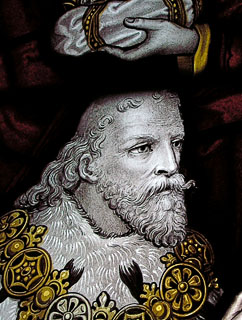 Elsewhere in the nave, there are various wall-memorials. One on the north wall caught our attention: it seemed to be a typical Jacobean alabaster wall-plate, complete with ionic columns, strapwork and obelisks. The inscription in the middle, though, commemorates Arnold Kirke-Smith, who was rector from 1889 to 1927. It is possible, I suppose, that the whole thing could be 20th century - in which case, it's a very good imitation of 17th century work. Otherwise, the surround must have been reused from an older monument. The RCHM doesn't mention it, which adds to the mystery.
At the east end of the nave is a fine tulip-stem pulpit: the top is 17th century (fine carving around the top includes the date 1682) but it sits on a medieval stem. Mark clambered up into it, and commented on how lofty it is.
Beside it, the chancel arch looms wide and dark. It is unusually wide, and I presume that this is so because the chancel had to be rebuilt in the 17th century after a dreadful storm in November 1636. The chancel itself has a plain plastered vault, and is even darker than the rest of the church: the tunnel of the nave plunging down towards the dim sanctuary.
I've visited French churches that feel like this, but rarely anywhere in England: in place of light and space, this is a dark, austere, earthy place.
St Peter is usually kept open