St Michael's sits in a verdant spot, a little way outside the village surrounded by a lush growth of trees and approached over a fine lawn guarded by a voluminous hedge. It's an idyllic place.
The church is small: a fine example of Perpendicular used on an intimate scale. Like many churches in this bit of the county, it is built mostly of flint and rubble. The nave is a simple box, devoid of clerestory or aisles, decorated around the rim with battlements. Next to it, the tower (restored in 1924, though the basic structure remains) is a modest structure that sits quite hard up against the western edge of the churchyard, peering out through a line of lime trees to the fields beyond. It has diagonal buttresses and no stair turret, though a little line of slit windows up one corner indicates the location of the interior stairs.
The chancel was completely rebuilt in 1875, and the rubble from which it is constructed has a greater admixture of red fieldstones. (There's an interesting thought: I wonder whether we could date buildings constructed like this by analysing the proportions of different rocks used in the rubble?)
The south door (covered in ancient graffiti) is protected by a surprisingly grand porch, almost as high as the nave battlements. The west face has some quite large blocks of stone, unlike the rest of the church. It is unadorned, save for a couple of little heads acting as dripstops on either side of the main arch, and two more diagonal buttresses on the corners (which were ringed with flowering stocks on the early summer day we visited). Inside are benches along the east and west walls.
A stoup in the north-east corner sits on remounted Norman zig-zag moulding, and there is a similar aged grave slab opposite, decorated with a cross: clearly there was a much older building here than the present structure.
The interior is small, the whitewashed nave filled with light through elegant Perpendicular windows - very tall and thin, with tight little lines of moulding in the heads. In many of these there are little bits of coloured glass depicting various members of the heavenly host. Some are recognisable – I could pick out St Michael – but most are representations of various orders of angels. The seraph was particularly good, all wings and eyes.
Unusually for glass in this country, the images are picked out only in black and white and gold, and looked more like Flemish engravings than anything else. They seem to be original, which makes them very rare indeed since that means they survived a visit by the odious William Dowsing. [Mark adds: as you work your way through this site you will come across this Nasty Puritan all too often alas - here his Journal for 15th April 1643 records that 'We brake downe 16 superstitious pictures, and gave order to take downe crosses of the steple, and to levell the steps'. You can find out more about him via the links page]
Perhaps as a result of such vandalism, the interior of the nave is mostly very simple, with solid dark wood benches harmonising with the whitewashed walls. The roof is mostly old, main beams sitting on corbel figures holding shields, with some carving in the wooden spandrels above.
Various lamps hang from the rafters. The font in the south-west is new, but it has a (very plain) Jacobean font cover.
There is a little more drama in the north-east corner of the nave, where rises a fine double-decker pulpit, full of lovely woodcarving (and framed on the surrounding walls by decorated panelling). Just in case the lofty position inflamed the preacher to sermonise excessively, there is also a little desk to the side with the metal carcass of a giant hourglass. As the glass bulbs have long disappeared and the mechanism looks decidedly rusty, I wouldn't go and listen to a sermon in St Michael if you're running on a tight timetable.
Hidden behind the pulpit is the door for the rood stair, although one can still see the upper door – I wonder when anyone last went through it? The rood loft to which it once gave access is, of course, long gone – but the original screen survives. It's a plain affair of dark wood and very sparse tracery, still with its original gate.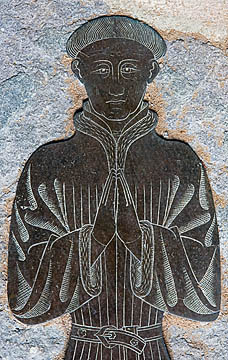 This takes us through to the 1875 chancel. By comparison with the nave, this is a cramped, grim affair, filled with greenish light from the dark Victorian windows. At first sight, it's just horrid but persistence is rewarded with some interesting earlier survivals. The east wall, for example, has a ghastly overpowering Victorian stone reredos, but below is a set of nice seventeenth-century panels commemorating the Pigott and Linn families. They all follow the same form: a border of leaves, a coat of arms, then a specific text within. There is also a nice wall monument to Mary Forster-Piggot, who died in 1816. It depicts an obelisk and a medallion showing her face, all framed by a delicatedly carved willow tree.
We almost missed the best thing of all – underneath a carpet is a reset brass from about 1460 depicting a man in a splendid fur-lined gown. There's no sign of his wife, but he is surrounded by his children – eight daughters and eight sons, and is himself drawn with unusual detail, right down to chest hair poking through the collar of his robe and the weary bags round his eyes as he settles down to wait for the Day of Judgement.
St Michael was open when we visited.